Living Outside The Box : Not Just A Catchy Phrase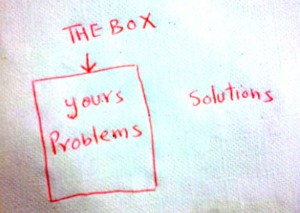 What does living outside the box really mean? We always hear the term "thinking outside of the box", but they say that in the "traditional" corporate world all the time! If fact, to some, that would be an oxymoron!
In order to have an extraordinary life, you can not do ordinary things – which is "stick to what you believe you know". Most people are not free, but they defend their beliefs, (sometimes to the death)! This means they are STUCK, because of their beliefs, aren't they? Watch this vid below to step out of "the dot" and start living outside of the box!

The Price You Pay By NOT Living Outside The Box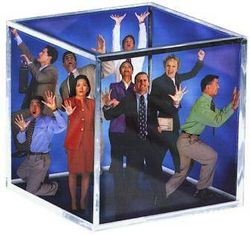 Many people say "no" to things before they even know what they're saying "no" to!!
I always imagine what my life would have been like if I wasn't open-minded enough to try skateboarding, snowboarding, and new ideas in business. My whole life would have been different, and I would have gone the "normal" route like many others. I may have never lived all my dreams of traveling, making tons of money, and having real freedom. If I would have just been closed-minded and said no to "no, I'm not interested in that", I would most likely be working in some building for the last 14 years of my life, a slave to my businesses or job, not making as much money as I would like, and getting taxed to death. How many people do you know that are living inside the box, still working a regular job or business, wishing they could make more money with more freedom? Not living outside the box can really cost you a life of freedom and millions of dollars in the long run.
How to BE living outside the box
- Change your environment: Get around people who are living a life of abundance and freedom, outside the box! Learn from them and copy them to get what they have.
- Find ways to invest in YOURSELF: You should always work harder on YOURSELF than you do at your job. (Seminars, courses, books, mentors, self development).
- Wealth Books: There's a huge difference between "school" books and wealth books. School books will help you gain a skill where you'll do the work in trade for money in the vicious cycle called the Rat Race, where you'll work hard until your 70 years old. Wealth books will help you gain leverage and abundance. You'll understand once you read them! The book called "Rich Dad Poor Dad" or "The Cashflow Quadrant" is a good place to start!
- Be OPEN to new things, always: In this fast-paced changing world of new innovation, you must be open and have the courage to ADAPT stepping up to new business ideas and technology, or else you will struggle. Show up for yourself to receive all the information, to stay up with the times, and then you can make your own educated decision and control your life. Make sure to NOT say "no" to things before you KNOW what you're saying "no" to, or you'll be stagnant. Create your future NOW, rather than being a victim to it.
- Use your skills to build extra channels of income, using "non traditional" business models that create residual streaming income. This will create more freedom and abundance in your life. For another article, click here on living inside the box.
To learn more on living outside the box, contact MFM here on the site.
We'll see you on the mountain or at the beach soon! M.